Regular price
Sale price
$23.99
Unit price
per
Sale
Sold out
Explore Other Tangiers Shisha Flavors
View full details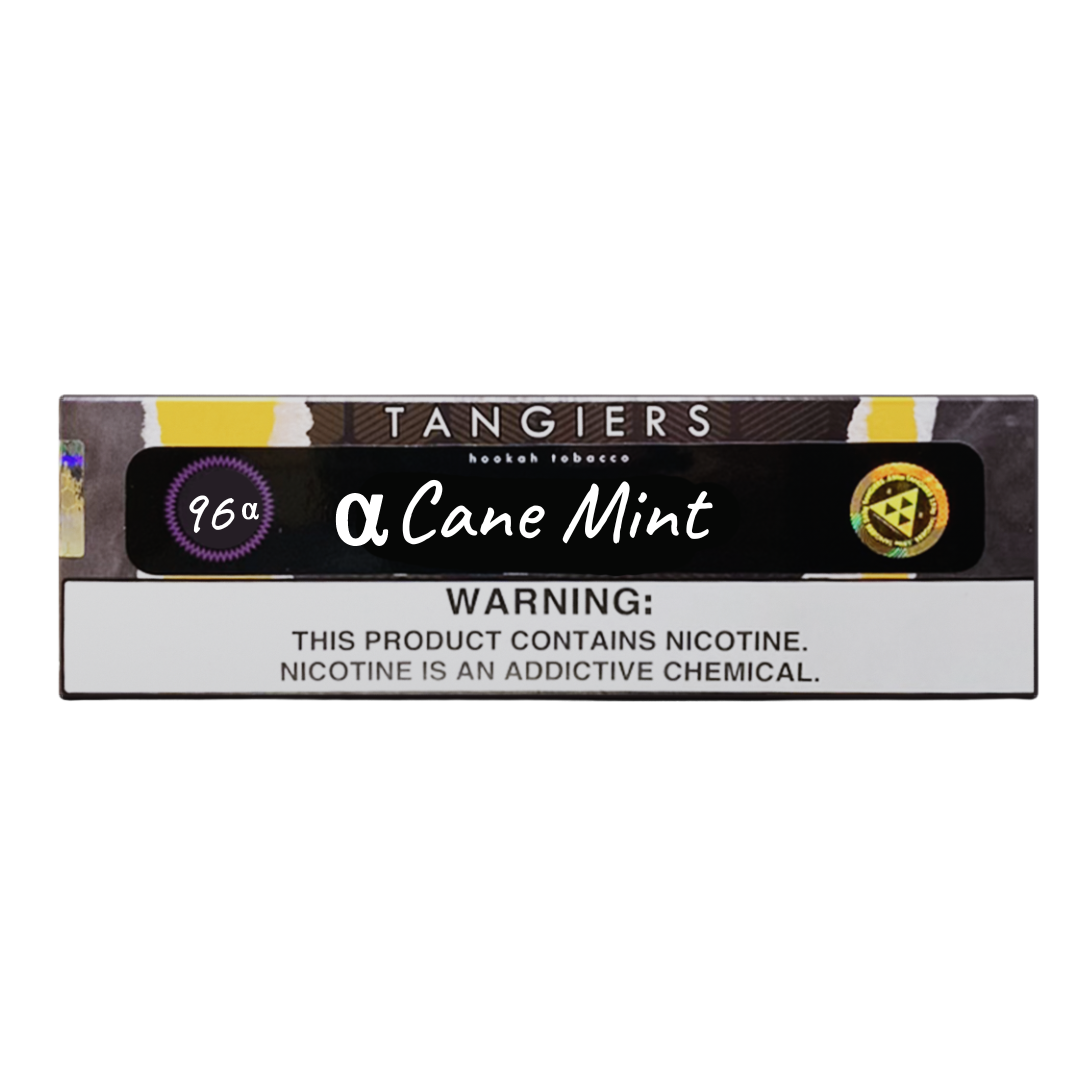 Tangiers "Cane Mint Alpha" Burley
 

Shisha Hookah Tobacco Product Details:
Tangiers "Cane Mint Alpha" Burley
 

Shisha Hookah Tobacco:

Tangiers "Cane Mint" is a strong, straightforward peppermint flavor. Combined with the premium quality of Tangiers robust handmade unwashed tobacco to offer a unique and enjoyable experience like no other product on the market. 

Each package of Tangiers Burley "Cane Mint Alpha" Tobacco is double-packed and air-sealed, boasting a hand-written label and a quality inspection verification sticker.

To enhance your overall Tangiers Tobacco experience, consider browsing industry-leading hookahs and Hookah HMDs. It is recommended to use the authentic Tangiers Phunnel bowl or a compatible aftermarket phunnel bowl such as the Alpaca bowl or Mason Shishaware, in addition to high-quality hookah coals, for a truly satisfying session.
About Tangiers:
Experience the exceptional with Tangiers Tobacco and its robust, handmade, and pure tobacco. Each pack of Tangiers Tobacco is meticulously sealed in a double layer for freshness. It features a handwritten label and a sticker for quality assurance. Crafted in Phoenix, Arizona, this premium American shisha tobacco, with its dark leaves, boasts a range of over 100 unique flavors absent in other brands. It combines modern and traditional Middle Eastern hookah tobacco, free from extra dyes or preservatives. Made in small batches with American-grown tobacco, the Tangiers hookah tobacco comes in four varieties: Noir, Birquq, Burley, and F-Line, catering to diverse preferences. Prepare for an unparalleled and memorable hookah experience with Tangiers.
Tangier hookah tobacco comes in 4 distinct lines :
Product Disclaimer: 
You must be 21 years or older to purchase this product. This product contains nicotine. Nicotine is an addictive chemical.
Tangiers Tobacco FAQs:
What is Shisha?
Shisha, also referred to as Hookah tobacco, is created through a combination of tobacco leaves, glycerin, molasses, honey, and flavorings. This special blend gives the tobacco a sticky, wet consistency, which should only be used in a Hookah.
Does Tangiers Tobacco Expire?
If Tangiers is sealed in its original packaging it does not expire. If it is opened and store properly in a container the recommend shelf life is 2 years.
How to Use Tangiers Tobacco?
Clean your hookah after each use.
Do not discard liquid at the bottom of bag.
Stir well before each use.
Do not use too much charcoal, this product smokes far more easily than others. A sulfury flavor, like burning rubber might indicate too much charcoal.
Open sealed bag and allow product to come into contact with he air for a few hours before using. If the tobacco smells tobacco-like, burnt, or like "soy-sauce", it needs to be exposed to the air longer.
Do not expose the tobacco to the fumes of bleach, lighter fluid, nail polish products, poisonous, harmful or noxious chemicals. The rule is: If you wouldn't want it for lunch, don't have it near the tobacco. Strong smelling foods might be picked up too. 
Put tobacco evenly in the bowl, making sure that the bowl is full in the bowl as it is dense in its bag.
When taking tobacco out of its tub to put in the bowl, try to take evenly from the top and bottom. Scraping too much from the top or "picking" from the top can cause inconsistent flavor results.
What's the best way to store Tangiers Tobacco?
 Store Tangiers tobacco in a hygienic, shallow and broad container.
Why Should I Purchase Tangiers Tobacco from Hookah Vault?
Feel confident in your choice when purchasing Tangiers Tobacco from Hookah Vault. As an authorized Tangiers Tobacco retailer, we are dedicated to offering you authentic and top-notch shisha. Our collection encompasses all the Tangiers tobacco lines, including favorites like Noir, Birquq, Burley, and F-line. Additionally, our assortment features exclusive Tangiers flavors found only here. Select Tangiers Shisha from Hookah Vault for both assurance and distinctive flavors. Your trusted destination for genuine Tangiers Tobacco products
Pair up the Cane Mint Alpha (#96a) Burley 250g with Empire Mint or Amotion Hookah for an optimal hookah experience.